Terence Seah traces Benoy's 'Giant Steps' in Asia in PropertyGuru's Property Report, Feb-Mar 2022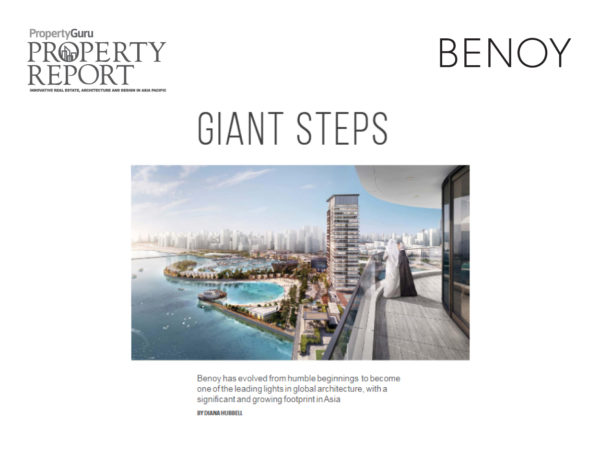 Benoy has evolved from humble beginnings to become one of the leading lights in global architecture, with a significant and growing footprint in Asia.
With an impact that belies its humble origins having started from a small operation founded in 1947 in Nottinghamshire in England, it has since had a profound and lasting impact in shaping the fabric of cities throughout the world.
With significant and multi-awarded icons around the globe such as Bluewater, ION Orchard, Elements Mall, and Ferrari World, and more recent ones such as multiple Alibaba developments, King's Road, Sanya CDF Mall II, ICONSIAM and David Jones Flagship Department Store, our projects are rooted in the tenets of social, economic and environmental responsibility, finding the synergy between various stakeholders and users of our developments.
Terence Seah, Head of Hong Kong, Singapore and Shenzhen, shares Benoy's growth story and design philosophy which have yielded successful projects which are both contemporary and timeless.
Read the full article on PropertyGuru's Property Report here: https://​issuu​.com/​p​r​o​p​e​r​t​y​g​u​r​u​p​r​o​p​e​r​t​y​r​e​p​o​r​t​/​d​o​c​s​/​p​r​_​n​o​.​1​7​0​_​f​i​n​al/84

"Our projects tend to become true destinations. They serve a complex layering of needs. Whether it's housing or working or hospitality, when you consider how they interrelate with each other, it creates a larger whole."